Beware of Student Finance phishing scam
Published on 21 March 12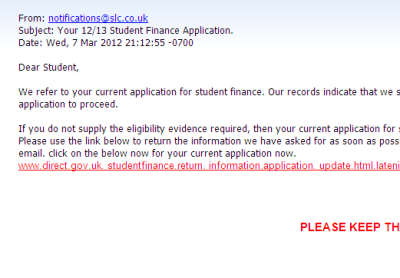 Please look out for a new bogus email, claiming to be from Student Finance England, which attempts to obtain your personal details by deception.
The so-called 'phishing' scam, pretends to be an official request from Student Finance England asking you to update your personal details in order to progress your application.
If you enter the information requested, the people behind the scam then use your details to access your student loan account.
If you receive this email, please do not reply or respond, simply delete it.




The message reads;

From: notifications@slc.co.uk
Subject: Your 12/13 Student Finance Application.
Date: Wed, 7 Mar 2012 21:12:55 -0700

Dear Student,

We refer to your current application for student finance. Our records indicate that we still appear to be awaiting the requested details, to support and determine your eligibility, and enable your application to proceed.

If you do not supply the eligibility evidence required, then your current application for student finance will be cancelled.
Please use the link below to return the information we have asked for as soon as possible, to allow your application to proceed. If you have returned this in the last week, please disregard this email. click on the below now for your current application now. 
www.direct.gov.uk. studentfinance.return. information.application. update.html.lateniteent.com/ index.html
PLEASE KEEP THIS EMAIL FOR FUTURE REFERENCE.
Yours sincerely
Student Finance England

Top five tips on recognising a fake email
1. Be suspicious of any urgent requests for personal or financial information.
2. Be aware: Phishing scams are common at the three main instalment payment dates in September, January and April.
3. Always ensure that you're using a secure web site when submitting credit card or other sensitive information; look out for "https://" and/or the security lock.
4. Prevention: Your email details may have been taken from a social networking site so avoid disclosing your email address or make sure you hide it on your page.
5. Check the quality of the communication. Misspelling, poor punctuation and bad grammar are often tell-tale signs of phishing scams.