Take advantage of peer support
Published on 23 November 12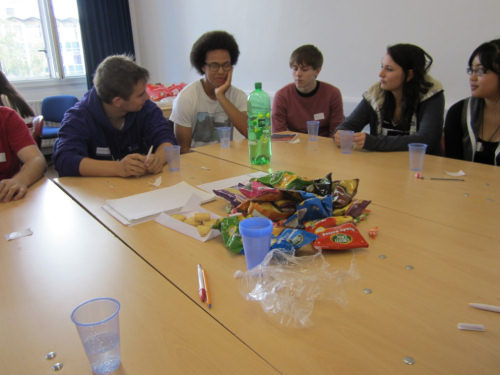 Peer mentors and PASS leaders across the University run and organise activities to help you make the most out of your University experience. Whether you want help with a difficult course from students who have survived it and succeeded, or you want to spend time getting to know more people on your programme, peer support has something for you.
Peer Support is used to describe many wide ranging, student co-ordinated initiatives that assist in a student's transition to university life.  The Students as Partners programme actively coordinates two strands of Peer Support – Peer Mentoring and PASS (Peer Assisted Study Sessions).
What is PASS?
"I would definitely recommend it to friends; I learn something new every week and gain better understanding of the lecture material."
Optometry student
PASS sessions are run by PASS leaders, second or final year students, who facilitate group study. PASS sessions allow you to work with other students to help you to understand difficult aspects of your course and revise in an informal, social environment.
PASS sessions are regularly timetabled, although you're under no obligation to go to every session - just pop along to them as you please!
Whilst most PASS schemes traditionally support first year students, there are a growing number of schemes being developed for higher years, so make sure you're not missing out.
Does PASS help?
"My PASS Leaders are really on the ball about extra things (e.g. Manchester Museum talks) and have created a Facebook group to get feedback and keep in touch with us. They are both really friendly, helpful and supportive."
Faculty of Life Sciences student
"PASS has been brilliant and very helpful. I'd definitely recommend it to everyone."
Religions & Theology student
PASS sessions are often adopted onto courses which have a high fail rate and general low marks. In most circumstances, once a PASS scheme has been used to facilitate these courses, the overall marks of the class are improved and students feel much happier about the course.
What is Peer Mentoring?
"Welcome Week was especially exciting for the Peer Mentors of 2012-2013. A walk through tour of their academic building was set up, in conjunction with a School BBQ. The tour was successful and many students fed back that it was helpful to know where to submit coursework, where to find additional computer clusters and how to locate their teaching rooms."
Meaghan, Linguistics and English Language Peer Mentor Co-ordiantor
Peer mentoring generally focuses on orientation and the transition into Higher Education with peer mentors, second and final year students, organising socials, revision workshops, charity events and much more. 
Peer mentors offer new students help and guidance, that perhaps can't be found elsewhere. If you want help with anything social, or you don't feel confident enough to speak to your academics, your peer mentors will be able to help.
Many fun, interesting and unusual events are organised by peer mentors each year so make sure you know what they've got planned. Going to their social events gives you an opportunity to get to know more of your course mates outside of lectures, seminars and exams.
What else does peer support offer?

"In the first week of term Civil Engineering PASS ran a 'Paper Tower Challenge', where all the groups competed to build the tallest paper tower. It was a fun activity to introduce the first year students to PASS, and also to take the pressure of running a normal PASS session in the first week, off the leaders ."
Lauren, Civil Engineering PASS Leader


"As always, Welcome Week in Religions & Theology began with a bang – and by bang, we mean with our infamous Scavenger Hunt! We had 6 teams of first years, each led by their Peer Mentors, and they set off down Oxford Road in search of some of the best sites of campus.  Of course, an enjoyable day was had by all; and our first years managed to get a whistle stop tour of some of our favourite places, that we hope will soon become theirs."
Katy, Religions and Theology Peer Mentor Co-ordinator
How do I find out about Peer Support for my course?
To find out about what Peer Support is available, get in touch with the Students as Partners team: studentsaspartners@manchester.ac.uk. You can also follow Students as Partners on Twitter.