Share your veggie recipes and win
Published on 21 November 12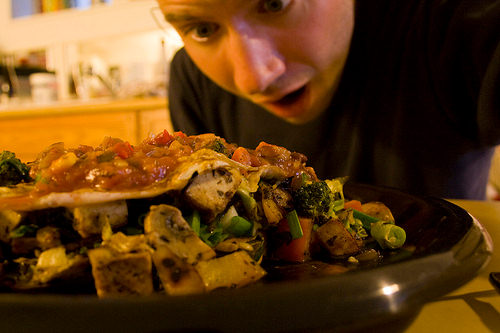 How would you like to share your favourite vegetarian recipe, have the chance to see your recipe grace the counters in food outlets across the University, and help the environment all at the same time? Plus win one of five fabulous prizes?
If you have a delicious vegetarian recipe that could turn any meat-eater into a once a week veggie, then you might as well enter the Sustainable Consumption Institute's (SCI) What's Cooking? recipe competition.
There will be five categories which you can enter, each with a separate prize from its sponsor:
But that's not all; shortlisted recipes will be published in a recipe booklet and will be available online. Winners will have the chance to prepare their dish with The University of Manchester's Executive Head Chef, and see their recipes become part of a new vegetarian menu being offered in University food outlets including student halls.
Winners will be announced at the end of January 2013 followed by a pledge drive encouraging students and staff to join the Meat Free Monday campaign.
All entries must be received by midnight 16th December. To apply, and to find out more about the prizes, click here.

Meat Free Mondays
The SCI is trying to encourage people to eat a vegetarian meal at least once a week, in order to reduce carbon emissions associated with meat production.
If you would like to help promote the Meat Free Monday campaign in your School or Department in the New Year, please send an email with 'SCI Meat Free Monday Campaign' in the subject line to sci@manchester.ac.uk.