Psychology students among inaugural Widening Participation award winners
Published on 13 December 12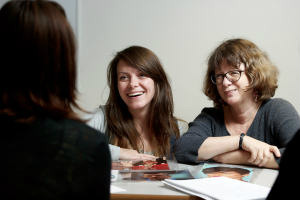 Three students have had their work to help kids in care build their confidence and see a future in higher education rewarded.
Rachel Mumford and Wendy MacDonald (pictured) and Hannah Taylor, all from the School of Psychological Sciences, produced and ran the Success4Life programme, along with fellow students from the Manchester Metropolitan University.
They were among the first winners of the Postgraduate Widening Participation Awards.
The programme – involving 14 children from years 7, 8 and 9 in six Manchester schools – was a great success with all 14 of the children invited 'graduating'.
"It has really helped me feel more confident," one youngster reported back. "Last year I was dreading my English presentation. This year it has been much easier because I have learnt to express my views in front of others."
The trio – who were supervised by clinical tutor Dr Ruth Butterworth and Emma Lewis at the Directorate of Student Experience – got so much out of it, they agreed to volunteer again.
Wendy said: "The most moving and inspirational aspect of working with this group was watching their growing confidence in speaking about their thoughts and feelings, knowing they were going to be taken seriously. What I gave to this group was as nothing compared to what I received from my time with these resilient, funny, smart young people."
David Allison, academic lead for widening participation from the Faculty of Medical and Human Sciences, said: "I hope that the success of this team and their programme will encourage and inspire more postgraduate students to get involved with widening participation."