500 ideas for taking a break
Published on 24 January 13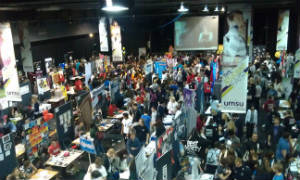 After one of the busiest and most stressful periods of the year, why not try something new? It could be the start of something beautiful...
Give it a go
It's not too late to get involved in a society, and with almost 300 of them to choose from, there's bound to be something that interests you. If you wanted to try something out, but thought you'd missed your chance, the Students' Union Give it a Go campaign is a chance to find out about some of the different societies and have a little taster of what they do. To find out about what's going on, click here.
Sport and well-being
There are plenty of different ways you can get involved with sport on campus. Whether you want to represent the University or you just want to keep fit there is something for you.
Many Athletic Union clubs are still happy to accept new members, so if you're purple and proud and you would like to play sport competitively, take a look at the different clubs in the Athletic Unions and contact them directly to see if you can get involved.
Hall sport is a great programme which provides 40 hours of free sport each week for students living in halls. Check out Jenny's guide to Hall sport to find out how you could get involved.

To find out more about what sport has to offer, take a look at the Sport website.

If competitive sport is not your thing, you can still keep fit with the Be Active courses starting in semester two. To find out what different courses are on offer, and to sign up, click here.
Culture Vultures
As we enter semester two, now is a good time to explore Manchester. Here are a few places recommended by students that you must visit whilst you're in Manchester.
The Manchester Art Gallery, Mosley Street
"Whether you like art or not, Manchester Art Gallery is a great place to spend a rainy Manchester afternoon in and learn a bit about Mancunian artists or British history. I particularly like the free entry and frequently changing exhibition, so that the gallery offers a unique experience each visit." Andrea, International Business, Finance and Economics
The Whitworth Art Gallery, Oxford Road
"The Whitworth Art Gallery is one of the places I like to visit in Manchester. I sometimes stop there on my way home from University and I am always pleasantly surprised by the interesting exhibitions and beautiful works of art. The Whitworth Art Gallery is part of the University of Manchester and I believe it is a must-see for every student." Raluca, Architecture
The John Rylands Library, Deansgate
"The John Rylands Library on Deansgate is one of my favourite places in Manchester, featuring special collections of old manuscripts and books from around the world. The architecture of the building itself is impressive, and can be further admired in a room that is open for people to study and read in. The library also features various exhibitions all year round and hosts many interesting events worth checking out, from printmaking to library tours. Entry to the library and exhibitions are free, and so are the events. The John Rylands Library is a landmark worth visiting in Manchester, and is a special treat for book lovers." Karen, Creative Writing
To find more recommended places around Manchester, take a look at Things to do in Manchester.