Largest computer cluster on campus now open
Published on 20 February 13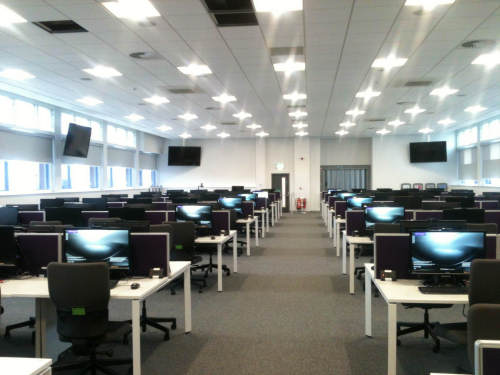 A brand new computer cluster has just opened its doors in Simon building
The new computer cluster is located on the 6th floor of Simon building and offers 140 extra computers which are accessible to all students from 8am – 5.30pm, Monday to Friday. Student cards are needed to enter the cluster and there is currently a timetable posted on the door to show availability, although you will soon be able to check computer availability through the iManchester app.
Cluster facilities include:
One hundred and forty computers using Windows 7
Plug sockets at each study space
fifty computers fitted with webcams
23 inch widescreen monitors
four height adjustable desks for wheelchair users
eight 52 inch screens
Did you know you can check which clusters have computers available and how many?
With the iManchester app, you can check how many computers are free to use.
If you haven't already downloaded the iManchester app you can find out more about what the app has to offer.