Study skills: getting good data from your research
Published on 20 June 13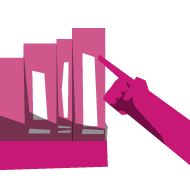 We've gathered together some useful resources to help you with your research and we've asked some academics for helpful advice
So once you have your ideas, your proposal and you are making progress with your research, it will be time to choose the specific methodologies and methods for gathering your data. Here are a couple of useful resources:
Once you've collected your data, you will need to turn your attention to how to analyse your data. It's best not to rush into this as you want to make sure that your findings are clear. Take a look at Palgrave study skills: Analysing data and thinking about your findings to help with this. See if your school has any subject specific advice on their intranet. Some schools have some fantastic resources tailored to support postgraduate students.
The library will also be running some MyLearningEssentials training over the summer aimed specifically at postgraduate students so take a look at what's on offer. The library also offers information for researchers which covers topics from using special collections to keeping up to date with publications in your subject.
Postgraduate Research resources
We know that studying for a PhD is very different to undergraduate study and postgraduate taught study so we've found some useful resources for researchers:
Ask an academic
We've asked some academics for their advice about how to get good data from your research.
"When carrying out any research project it is important know why your work is important. My advice is to do your homework before you start in terms of the research area and potential methodology required to address the problem. This will position you well to 'hit the ground running' on your project and learn methodology quickly as you will understand the reasons for doing it. If you immerse yourself completely in the research environment you are likely to get more help to generate progressive data that will tell a story."
Dr Karen Piper Hanley, Lecturer in Molecular Medicine
"Don't worry too much about originality at this level; original ideas (and new data) are always a good thing, but you can't force it, and staff know that. One of the skills you should develop during the course, in fact, is the ability to identify areas that are ripe for investigation, where original research may be possible. The best way to work towards originality is to keep reading and learning more about the research context. (And yes, PGT students are expected to read a lot.)
PGT students are expected to be proactive in following up areas they want to pursue. Staff are always happy to provide reading suggestions, but PGT students need to take their education into their own hands to some extent: a PGT degree is very much what you make it. The best advice I can give to PGT students is to be aware of the possibilities the course makes available, and to make the course their own.
Work at PGT level should show genuine engagement with research literature. It's not sufficient at PGT level to rely on basic textbooks; research articles should also be read and cited. (Often, committed undergraduates will have been doing this anyway, so it's not a big deal.) This holds whether or not the PGT student intends to go on to PGR study, because one of the hallmarks of Masters-level education is knowledge of the research context and ability to apply that context to whatever comes next, be that research, industry, teaching or something else."
Dr George Walkden, Lecturer in English Linguistics