Science festival has something for everyone
Published on 26 October 12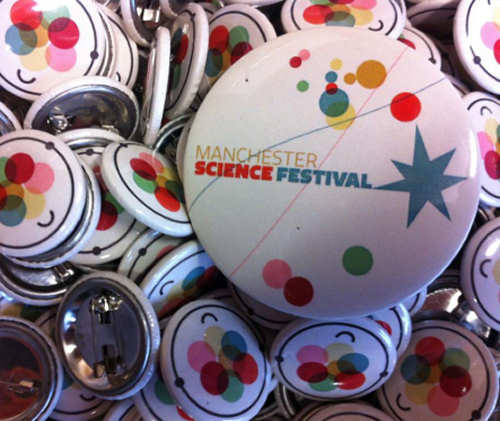 Manchester Science Festival has activities for everyone with events from film screenings to hands-on workshops
27 October - 4 November 2012
The Manchester Science Festival - supported by the University's staff and students - is designed to highlight and explore the many ways that science touches our lives and includes;
beautiful installations
films on the big screen in a beautiful warehouse setting
immersive science experiences
intriguing evening events
inspiring talks and debates
hands-on workshops and more


Science after dark
If you want a break from lectures and assignments then have a look at the activities taking place during the Manchester Science Festival. Here are just a few of the more laid back events you can enjoy.
Sensored Science is a pub-based event for adults. Ever wanted to design your own maggot experiment? Fancy testing your science knowledge in our quiz? Can science really be funny? Come along to find out and enjoy some science-themed rock-pop. Tuesday 30th October, 5pm - 11pm at the Lass O'Gowrie
The XXX Files: Everything you wanted to know about science but were too afraid to ask. This evening of adult-themed talks will surprise and delight as you take a sneaky sideways glance at some of the more surprising and intimate aspects of the human body. If you're looking for action then the cosy surroundings of the Lass O'Gowrie pub is the place to be - including Embarrassing Bodies (with Val Edwards Jones from the TV show). Thursday 1st November, 7pm, Lass O'Gowrie
The great debate: Demon drink? Beer v Temperance. Watch two historical titans battle it out to win your votes for your tipple of choice. Annemarie McAllister, senior lecturer at UCLan and Temperance and the Working Class Project Leader, vs. James Sumner, lecturer at The University of Manchester and expert in the history of brewing. Water vs. beer – you decide. Saturday 3rd November, 2pm - 3.30pm, People's History Museum, Left Bank , Spinningfields.
Don't miss the exhibition, Demon Drink? Temperance and the working class at the People's History Museum, or see the online exhibition.
                                                               

Family fun

The University is one of the key organisers of the events and over 200 staff and students will be participating in the Science Spectacular which takes place on Saturday 27 October 2012, 11am – 3pm, at Whitworth Hall and The Manchester Museum, on Oxford Road. 

Take part in our science challenges - find out why lotus leaves don't get wet, take a journey through the heart, wrestle with plants that bite back, and get curious with some creepy crawlies. Meet our scientists and engineers and take part in hands-on, fun activities throughout the day.  You can find out more at: http://www.manchestersciencespectacular.co.uk or follow us on Twitter @manc_science

                                                

 
And don't forget to cast your vote in the Images of Research photography competition (closes 5 November 2012). Fifteen stunning photos have been shortlisted and have gone on display at a special exhibition at the University's John Ryland's Library, Deansgate. This year's theme is "Making a Difference". The images demonstrate how research at the University is affecting the wider world and benefitting society. Research staff and students from all academic levels, and from across the University, have entered. An overall winner will be chosen by voters either at the exhibition or online.
For a full list of events and to find out more, visit http://www.manchestersciencefestival.com/ or follow on Twitter @McrSciFest