Want to improve your writing?
Published on 22 January 13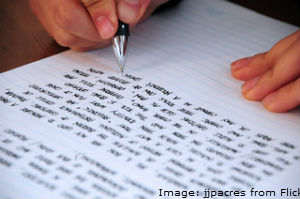 Log on to the Postgraduate Writing Clinic, every Wednesday
The Online Writing Clinic is a forum which gives all Postgraduate students the opportunity to ask questions about any aspect of academic writing.
The clinics will usually take place between 2.00 – 3.00pm on Wednesdays.
To access the online clinic, go to:
http://unimanchester.adobeconnect.com/owc2013
This will launch Adobe Connect and a login page. Enter your name and School (e.g. Simon: MACE). Then click the 'Enter Room' button and you will enter the clinic.
Please note: you will need headphones to listen to the clinic. If you have a headset with microphone you will be able to speak to the tutor. If not, you will communicate by a chat facility.
You should bear in mind that this is a University-wide resource and so the guidance and feedback given will be generic and not subject or School specific. If you have any subject specific questions (e.g. regarding formatting of your thesis), you should speak to your tutors, supervisor or mentor, or to some other relevant person within your subject field.
If you have any questions regarding the online clinic, please email Howard Goodison from the University Language Centre.