Museums at Night
Published on 10 May 13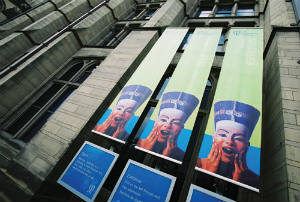 Several Manchester museums open their doors after closing time for a programme of one-off cultural events
(From MEN, 10th May)
If you've ever wondered what goes on behind the closed doors of your favourite museums after dark, then this is week for you. While no curator scheduling special events for this year's Museums At Night can promise a one-to-one natter with a Pharaoh or the reanimation of a woolly mammoth, they are going all out to make the most of their extended opening hours from this Thursday.
Until May 18 several Manchester galleries and art spaces are putting on unique nights – some free, some not – to encourage us all out into our region's most important and valuable buildings and gardens.
One of the most fun sounding events is taking place at Manchester Art Gallery, the Whitworth Art Gallery and Manchester Museum. On Thursday, visitors will be asked to donate objects at Manchester Art Gallery or Manchester Museum for Lost And Found, a one-night show set to take place at Whitworth Art Gallery the next day (May 17).
Artist Richard Wentworth will take people on hourly mystery bus tours of Manchester (running from 5.30pm-7.30pm) and passengers will be asked to donate disparate objects for an exhibition that Richard will have to stage (all free). Meanwhile at the museum, jeweller Jade Mellor also hosts crafts classes from 6.30pm until 9pm, and Johan Oldekop leads an exhibition tour of All Other Things Being Equal.
More immersive fun is happening at John Rylands Library on May 17-18, when families will be able to book in for an overnight stay in the Historic Reading Room. In return, they have to solve a Dr Who adventure, which involves a torch-lit creep around the library in search of the TARDIS (free, but booking required – manchester.ac.uk/library/deansgate).
Over at Quarry Bank Mill, near Wilmslow, the head gardener will be leading visitors on a walk through the secret garden on Thursday from 7pm (£8, nationaltrust.org.uk) and on Friday (May 17) the National Football Museum hosts a late-night screening of Cass Pennant's documentary Casuals in the Hall Of Fame, followed by a Q&A with some footie commentators.
By far the oddest and noisiest event, though, is happening at the People's History Museum on May 18, when singer Quiet Loner will make a protest album in the Community Gallery, Sam Duckworth (he of Get Cape, Wear Cape, Fly fame) will perform a set of exclusive collaborations, Zimbo shows his UK riots documentary One Mile Away and a clutch of up and coming MCs and singers perform (free, no booking required but not recommended for under-14s, 3pm-8pm).
It is, says Museums At Night ambassador and BBC radio DJ Lauren Laverne, an opportunity "to perhaps discover a cultural gem on our doorstep that we didn't even know existed".