Food monthly
Published on 20 June 13
Red Velvet Chocolate Cheesecake Brownies
Ingredients:
To make the red velvet brownies:
230g butter
400g golden caster sugar
8 tablespoons of cocoa powder 
A few drops of vanilla extract 
A few drops of red food colouring 
4 eggs
200g plain flour
A handful of chocolate chips
And for the cheesecake topping:
1 pack of cream cheese
80g caster sugar
More drops of vanilla extract
2 egg yolk
Crushed pieces of white chocolate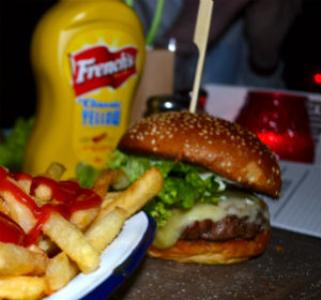 1. Preheat your oven to 190ºc and line a slightly deep baking tray with buttered greaseproof paper to stop the brownies from sticking.
2. Melt your butter in a bowl over boiling water and add this to the sugar, cocoa powder and vanilla extract then add a few drops of red food colouring.
3. Whisk the eggs in a separate bowl and stir these into the brownie mixture.
4. Fold in the flour adding a bit at a time until it is well combined with the brownies.
5. Then add 3/4 of the mixture to your baking tray reserving a bit to add for the topping.
6. To make the cheesecake topping, simply combine the cream cheese, caster sugar, vanilla extract and egg yolk together – either whisking my hand if you're super speedy or by using an electric mixer.
7. Once smooth, spread the cheesecake mixture over your brownies.
8. Add the remaining brownie batter and get creative by swirling it all together and sprinkling the crushed pieces of white chocolate all over.
9. Pop it into the oven for 35 minutes or until the cheesecake is silky and firm.
10. Leave to cool, add a few drizzles of red food colouring over the top and serve with great big dollops of vanilla ice cream and a few raspberries
A recipe brought to you by Manchester-based blogger – Happiness in a Cupcake
Restaurant review: Gorilla
"A retro bar and kitchen which in my opinion serves the best burgers and fries in Manchester.
The specials menu sounded amazing and I was this tempted to order the chargrilled chicken, however after I read the burger menu I swear my mouth was actually watering!
How does a herbed lamb burger with a toasted brioche bun, aioli, red onion chutney and butterhead lettuce leaves with seriously seasoned fries sound? Amazing? Or ahhhmazing?! I think you get the picture.
I'm not kidding when I say this but with every bite it got better and better…
The entire burger oozed so much flavour. From the sweet brioche bun to the red onion chutney and aged cheddar – the flavours were simply sensational. We were advised by our amazing waiter, Deano, the burgers are best served slightly pink as in burger terms apparently this helps all of juices to combine together. Well, I totally believe him.
Then it was time to dig in and smother the golden fries in ketchup, plus a scatter of salt…"
Read the full blog at Happiness in a Cupcake.
If you have any recipes or reviews you would like to share, send them to us at studentnews@manchester.ac.uk.