Are all your contact details up-to-date?
Published on 24 October 12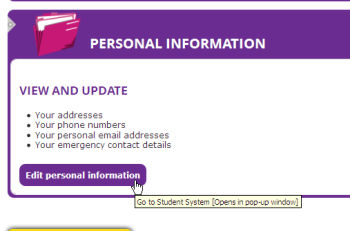 It's important the University has correct contact details for you, as it uses the term time address on file to inform certain local councils you are exempt from paying council tax.
The University also has a legal obligation to ensure any information held about you is accurate, so it's essential that you use the My Manchester student portal to regularly maintain the following information:
Addresses
email addresses
phone numbers
emergency contacts
To update your details, simply log into My Manchester, go to the My Services Tab and click the pink 'Edit Personal Information' button in the Personal Information portlet.
This will take you straight into the Student System, where you can update your personal information.
If you wish to update any other information held on your file, you should contact your School.