Competition: make your mark on the Learning Commons
Published on 19 January 12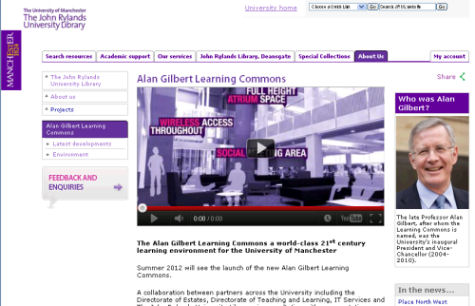 Enter our image competition to have your unique designs printed onto the walls, doors or glass panelling of the University's newest building - and win an iPod or a Kindle!
Opening in summer 2012, the Alan Gilbert Learning Commons will offer students a flexible, ultra-modern and stimulating space in which to learn and relax.
This landmark building is designed to become a focal point for learning offering a stimulating and comfortable 24/7 environment for study. The space will offer a real variety of flexible individual and group study facilities as well as provide access to computers, scanning and printing facilities.
To provide inspiration for everybody studying and working in the Learning Commons, its fabric and facilities will celebrate the University's rich heritage of achievement and innovation.
A great way to demonstrate how students are at the heart of that, and reflect the wealth of talent in the student body, is to showcase your talents in this exciting new environment.
Image competition
The Alan Gilbert Learning Commons Image Competition offers the chance for you to make your mark on the University. Every student can enter – just draw, write, scribble or produce something that connects you to the University. This might be related to the subject you are studying or the City of Manchester, and should stand out as representative of Manchester students and the Manchester experience.
The winning images will be printed onto the walls, doors and glass panelling of the learning spaces for everyone to see.

Great prizes
Not only will your work be showcased, but you can also choose a great prize as celebration of your achievement; if your image is selected you can choose to receive an iPod Touch 8GB or a Kindle Keyboard 3G.
What sort of images can I submit?
Illustrations, graphics, scribbles, doodles, formulae, poems etc. Something personal, individual, original, genius!
Submissions should be hand-drawn black and white images or original digitally captured images.
The preferred size for submissions is A4 (portrait or landscape).


How do I submit my entry?
You must complete an official entry form, complete with your contact details and signature in order to enter the competition. Entry forms are available from University Place and the Main Library on Oxford Road, as well as the Joule Library on Sackville Street (Campus Map).

Submit your design in an envelope, or online.
You can submit your design in the envelope provided with the entry form, by posting them in dedicated boxes in the Main Library, Joule Library, and University Place.
Alternatively, digital images should be emailed to: imagecompetition@manchester.ac.uk.  If you are emailing your image, you must still complete the official entry form with your contact details, signature and state on the blank page that you emailed your design.
Terms and conditions
The University will retain all progress drawings and full copyright for the finished design. By submitting your design you are granting the University of Manchester permission to digitise, manipulate and reproduce your image.
Before you enter, make sure you have read, and follow all the terms and conditions of the competition.
The deadline for all submissions is Monday, 20 February 2012.
For further information about the Learning Commons or to see a fly-through of how the building will look, please visit: www.manchester.ac.uk/library/learningcommons