Have your say and improve the student experience
Published on 16 February 12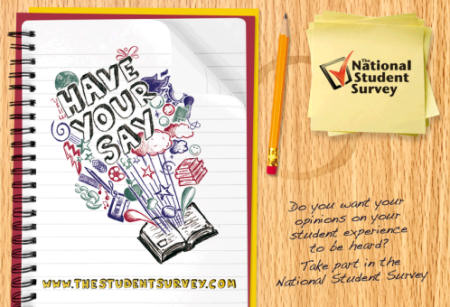 The NSS is the opportunity for final year students to give their opinions on what they have liked about their time at Manchester, as well as what could be improved.
The online survey asks a range of question about satisfaction with the teaching and learning experience, covering areas such as Teaching, Assessment and Feedback, Academic Support, Learning Resources and Personal Development.
Overall results are then made available online to prospective students, to help them make informed choices of where and what to study.
The University is also committed, as one of its main goals, to working with the Students' Union to use results to facilitate best practice and enhance the student learning experience.
Run by Ipsos MORI on behalf of the Higher Education Funding Council for England (HEFCE), you will receive an initial email, followed by text, a mailshot and finally telephone calls.
It's important to note that you and your answers remain anonymous at all times and your contact details are only used for the purpose of the survey. Once you have done the survey, you will not be contacted again
So if you have received your email and are eligible to take part, why not complete the survey today at http://www.thestudentsurvey.com/
As well as final year students, if you are nearing the end of a flexible course you may be asked to participate, even though you are not necessarily in your final year.