The famous Bogle, ice skating, speed dating and fundraising
Published on 2 February 12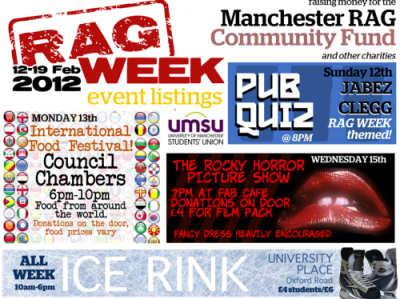 From the 12-19 February it is officially Manchester RAG week – jam packed full of exciting events, challenges, opportunities to make friends, meet people and have fun, all in the name of raising hundreds of thousands of pounds for charity.
Manchester RAG is the official fundraising arm of your Students' Union, organising hundreds of events throughout the year.
There are opportunities to boost your CV, helping you earn Manchester Leadership Programme hours and offering you the all the support you need to start fundraising.
Thanks to your hard work and generous donations, last year Manchester RAG raised an amazing £330,000 for worthwhile charities - and aims to raise even more this year.
What's on this RAG Week?


For more details check out www.manchesterrag.com/ragweek, or Like Manchester RAG Week 2012 on Facebook.
The Famous Bogle
 A highlight of the University's calendar since 1951, this 24 hour walk around Manchester has raised millions of pounds for charity.
Thousands have battled against their wills across the decades, not only to raise money but to push themselves, achieve something great and have fun along the way. Bogle's participants take part in either a 55, 26 or 12 mile walk, or if you'd rather, a 78 mile cycle around Greater Manchester.
Certainly not for the faint-hearted, but a great event with a fantastic sense of achievement that will stay with you for years to come. To find out more, or sign up and start raising money for charity please visit www.bogle.org.uk. 
Are you an MLP student?
Working with Manchester RAG is a fantastic way to get some volunteering hours under your belt.
For a general guide to the RAG activities which count towards the The Manchester Leadership Programme, then check out the MLP GUIDE
In order to register your MLP hours, you must agree with the event coordinator beforehand that the volunteering hours will count. Afterwards, simply download and fill out the Volunteering Hours Request Form.

The Manchester Leadership Programme offers a unique combination of academic study and volunteering. MLP students gain great CV boosting experience in leadership, promoting social, economic and environmental sustainability. Find out more about MLP.