Supporting your fellow students
Published on 2 March 12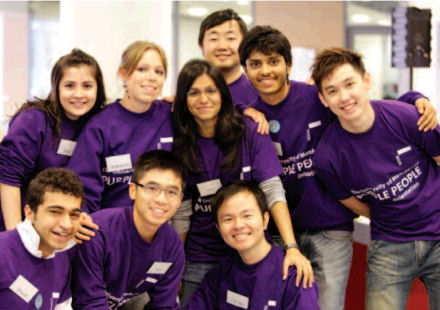 The University is more than a cluster of buildings and a schedule of lectures – it's thriving with the energy and creativity of an amazingly creative and culturally diverse student body.
As a student at Manchester you contribute and support others' experience and education in a huge variety of ways, and everyone benefits from that. This article offers just a sample of the amazing work students are doing, and you can get involved in:
Become a Purple Person
The International Relations team are currently looking to invite around 150 more current students to become Purple People.
The Purple People are dedicated to providing a world class and friendly welcome to the University, and help with the transition into life and study in Manchester for the 3,000 new international students who join us each year. Roles include working on helpdesks, leading campus tours, facilitating discussion groups and assisting with social events.
As a Purple Person you can make a real difference to the everyday lives of thousands of Manchester students, doing rewarding work in an exciting and culturally vibrant environment, whilst gaining great experience along the way.
Applications are now open. Find out more about working as a Purple Person or apply online today.
Do you have what it takes to be a leader for student sport?
Sport Sabbatical Officer for the University of Manchester. Fixed term appointment (13 months), start date 1st July, 2012
Salary circa £18,800
Playing sport at Manchester is one of the most enjoyable and rewarding aspects of being a student. The University is offering a unique opportunity for a graduate to contribute to the development of sport and active recreation in the context of the 2020 agenda and beyond for the institution.
You will be responsible for providing advice to Athletic Union clubs, monitoring and evaluating competitive club performance and development including continued implementation of tiered system of support, assisting with the Campus Sport and recreational programmes and raising awareness across campus of the huge range of sporting opportunities the University has to offer. You will lead on organizing and staging at least one major student participation sport event on campus during the year. You will share responsibility for managing a significant budget relating to competitive club activity (over £200k), and for directing fundraising for SPORT in the university. You will act as a champion for sport, representing the range of student opinion and ensuring that a first class sports service is delivered to all students at the University.
At time of application, you will either be a current, final year student or be a recent graduate (within the last year) of The University of Manchester, with experience of participating in and organising sport at University. You will be able to demonstrate initiative, excellent communication skills and the ability to plan and organise the delivery of services.
If you have a passion for sport and feel you have what it takes to be a student champion, please contact Janet Brownhill (Janet.Brownhill@manchester.ac.uk) for further details and an application pack.
The closing date for applications is Thursday 29th March 2012 (4pm) and interviews will be held on Tuesday 24th April, 2012.
Become a Student Representative
Student Reps make sure that the student voice is heard by the University's Schools, and work in partnership with staff to improve your course. They are leaders, advocates, representatives and volunteers, and gain a wide variety of skills that are sought after by employers.
A key link between staff and students, and a crucial part of the Students' Union, as a Student Rep you are working to improve students' lives at the most local level.  Student Reps achieve real changes, past successes have included an improved feedback quality; increased tutorial hours; common rooms; new PCs; more books in the library; changes to how some course units are delivered – all of which have a real impact on students' lives. Find out more about the role of Student Reps.
Become an Environmental Representative
The role of an Environmental Rep is to encourage environmentally sensitive living in your halls of residence, and as part of the Environmental team, help promote the environmentally friendly schemes and opportunities within the University.
Work can include engaging students by running green events, working with environmental societies at the Students' Union, promoting the University's Carbon Control campaign, ensuring your halls have adequate recycling facilities and recruiting and managing a team of environmental volunteers. Find our more about the University's sustainability schemes, and how you can get involved.
As an Environmental Rep you will really make a difference by lowering the student carbon footprint and helping to change the way people think about and engage with the environment, as well as gaining great experience and making friends with like minded people along the way. Read the full job description for Environmental Representatives. 
Become a PASS Leader
PASS stands for Peer Assisted Study Sessions – it is a group learning opportunity which allows higher year students to share their experiences and support the learning of lower year peers. The support from PASS works in addition to course activity such as lectures and tutorials, and exists to enable active learning in an informal, friendly and fun environment.
Working with PASS provides a rewarding opportunity to enhance the experience of students at Manchester, as well as improve your leadership skills, help find your career path and stand out to future employers.
Click here for more information about the PASS scheme.
PASS offer workshops to help 'demystify' the scheme and answer any questions you might have, as well as training for students who want to get involved.
Find out more about PASS training.
Think you might want to get involved? Then get involved!
There are opportunities to get involved and support your fellow students throughout your time at Manchester, it's not only the schemes mentioned here. The Students' Union is run by full time students who are elected into their position each March – nominations have just closed so there will be plenty of student hopefuls campaigning around campus and explaining how elections work over the next few weeks. If it sparks an interest in you then this time next year, who knows, it could be you hanging up banners and handing out fliers!
It's not just full time roles though, every society, every club night, every student answering a call to Nightline, every student radio show – its all ran by volunteers no different than you. It's never too late to get involved, click here for more about your Students' Union.