Win £50 with an NSS boomerang
Published on 14 March 12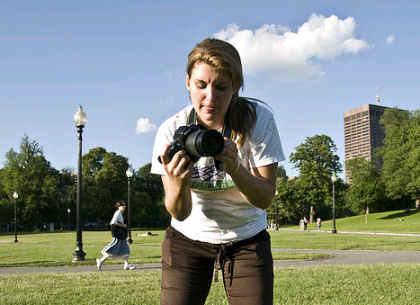 There is still time to win a free lunch voucher or even a £50 prize – you just need to great creative with a free foam NSS boomerang!
The National Student Survey (NSS) provide the foam boomerangs. You just need to pick your 'foamarang' up for free from University Place, then think of something creative to do with it!
Take a photo of the boomerang in an unusual place, video yourself making an impressive throw, dress it up, turn it into a helicopter – anything you can think of. The only rule is to make sure that the NSS logo is visible in your post, so you can cut up the foamarang, decorate it and add it to it – just be sure to keep at least one NSS logo can be seen.
'Like' the competition facebook page, and then post your entry on the wall.
Whether you snap your photo on your phone, shoot a real time video clip or create your own digital masterpiece – it doesn't matter. The first ten people who post their image or video will automatically receive a £4 food voucher redeemable at all University food and drink outlets – it couldn't be easier, just be amongst the first to post and get a free lunch.
Once your post is live, share it with friends and be in with a chance to win £50 in vouchers.
All it takes to win is to make sure your post receives the most 'likes' on Facebook before 5pm, Friday 23rd March, and then you will be the lucky recipient of £50 to spend on either Amazon or iTunes.
 Let's run through that one more time:
Pick up your free foamarang from the Visitors Centre, University Place, any weekday between 9am and 5pm (building no. 37 on the campus map)
Take a photo, or create a video no longer than 30 seconds which features the foamarang (make sure you can see the NSS logo!)
'Like' the competition Facebook page: www.facebook.com/UoM.NSS.foamarang and then post your entry on the wall.
If you are amongst the first ten people to post, you will automatically win a £4 voucher to be used in any Food On Campus outlet
Share your post with friends, and if your entry gets the most 'likes' by 5pm on Friday 23 March, you win £50 worth of vouchers. Choose between iTunes or Amazon, whichever vouchers you'd prefer.
This competition is open to students across all Faculties.
Final year student? Not completed the National Student Survey yet? Click here