Postgrads – meet the Thesis Whisperer
Published on 22 March 12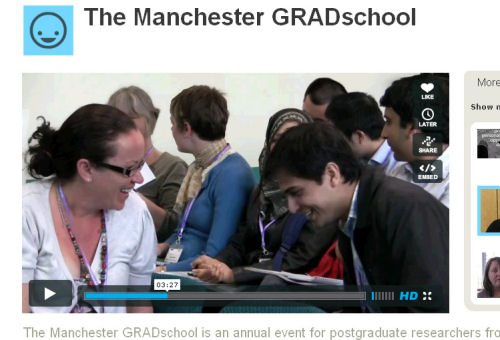 Dr Inger Mewburn is the keynote speaker at this year's Manchester GRADschool, a free annual event for postgraduate researchers across all disciplines.
The University has been running local GRADschools for more than 13 years, and this year's course builds upon the success of our previous experience, ensuring that you gain the most of the time spent way from your immediate research.
GRADschools are designed to help you reflect upon and develop your skills as a postgraduate researcher and consider how you can apply these skills now and in the future, as well as increase your self-confidence as a researcher.
GRADschool 2012's theme is Research Impact – Engagement, Policy & Social Media and will take place 1-4 May.
This year's keynote speaker will be the 'Thesis Whisperer' herself, Dr Inger Mewburn, who will share her thoughts and experience on using social media to make an impact. Check out Mewburn's blog or Twitter feed for an early insight into how she supports researchers all over the world on a daily basis.
-Click here for this year's Event programme
How does the course work?

Participants are split into groups (typically 7-8 people) to work in a range of situations. GRADschools use a model of experiential learning, through practical-based case studies and intensive self and group reviews. Working in a multi-disciplinary group offers you the chance to explore team dynamics, roles and responsibilities, providing a rich base from which to raise awareness of your own skills and knowledge – for many researchers this will your only chance to do so for the whole of your PhD.
 - Click here for a short behind the scenes video on Manchester GRADschool.
Who can attend?

The Manchester GRADschool is open to postgraduate researchers (PhDs) in any discipline who have completed their first year. It is open to both UK Research Council and non-UK Research Council funded researchers from across all four University faculties.
This three and a half day course is free for researchers at Manchester; places are highly sought after and will be allocated on a first come, first served basis.
Before applying – please ensure that you are able to commit to the full three and a half days of the course and that your supervisor is aware of your intentions.
Would you like to know more? Click here for more information on Manchester GRADschool 2012.